It's hard to miss Cambodia's wide stretches of lush green rice paddies when you're flying over. For many in the country, this is their livelihood – long days spent under the sweltering hot sun, backs bent over, hands busy. They plant the seeds, cultivate them daily and, when the time finally comes, harvest the rice.
It's hard work. And it's work many farmers can relate to, whether you're in Canada or Cambodia. Farmers pour their hearts into their crops and watch with joy as new life breaks through. Ratanak supporters Howie and Pamela Bredin are Canadian farmers in Winnipeg, Manitoba. "Springtime and harvest can be very long days working from 6 or 7 in the morning until 12 at night," they explained to us. "Farming is not an 8 hour a day job."
This is work followers of Christ can relate to as well, as we sow the seeds of His Word and wait in patience to reap a harvest of restoration in Cambodia. "Let us not become weary in doing good, for at the proper time we will reap a harvest if we do not give up" (Galatians 6:9). As you invest your time and energy, walking alongside Cambodians on their journey of healing, our prayer is that God would multiply your generosity. However, this journey can't happen overnight. There is no short-term fix. Transformation happens over long, hard hours as we continually seek God's love in trauma and brokenness. It happens over months spent building relationships and trust with very vulnerable communities. It happens over years of dogged persistence – demonstrating our commitment to love and serve the people of Cambodia. God multiplies our generosity, and the harvest can be so much more than we expect when we continue to persevere where God has called us. There's much to be learned from the life of the farmer!
For many families in Cambodia with limited education and low incomes, to farm is to survive. When they don't make enough from their harvests, their families suffer malnutrition and disease. When faced with such desperate circumstances, the idea of working at a garment factory or leaving home to find work across the border becomes more and more appealing. Unfortunately, this also makes them vulnerable to human trafficking and exploitation – trapped for months on end on a fishing boat in Thailand without adequate food and sanitation, forced to endure the abuse of violent employers in Malaysia, or being sold into a brothel in the red light district.
A CREATIVE SOLUTION
Building rice mills in communities creates opportunities for jobs, additional income, and hope that they can break out of the oppression of poverty. The rice grains harvested from the fields are not immediately ready to sell in the markets. They are not the clean and polished grains we are used to seeing in our grocery stores. They need to be "milled" – processed, essentially. The rice milling process generates four products: polished edible rice, the husk, bran, and short grains. Without rice mills, farmers are forced to sell their harvested rice to millers at a minuscule rate. The millers are the true profiteers, keeping both the polished rice and all of its by-products to sell at a much higher profit. The farmers are paid next to nothing for the rice they work so hard to produce.
Without rice mills, farmers receive $0.17/kg for their unprocessed rice.
With rice mills, farmers receive up to $1.23/kg for their rice – 
a 623% increase! 
We're helping three communities near the Thai-Cambodia border build rice mills. The area has a combination of low education, low income, and depends on a single crop each year. This leaves the local population with less than enough money to live for the year. It is also located close to the border, making it a high migration area where human trafficking is rife. With the rice mills, farmers can process their own polished rice and keep all the by-products. They can then sell all of this for a much higher profit – giving them a sustainable source of income and reducing the risk of unsafe migration and exploitation. The rice mills will also increase jobs and improve living conditions. Staff will train community members on how to use the mills, develop good business practices, and run the mills as a cooperative.
 While building these rice mills, we're not only sowing hope and opportunity, we're also sowing seeds of the Gospel as program staff work together with community members. Malai, who lives in one of the communities where we are building the rice mills, told program staff: "I have been dreaming of having a rice mill in my village, and now we have one and I am extremely excited. From this rice mill, I hope that it will help my community's dreams come true."
"I have been dreaming of having a rice mill in my village, and now we have one and I am extremely excited. From this rice mill, I hope that it will help my community's dreams come true."
– Malai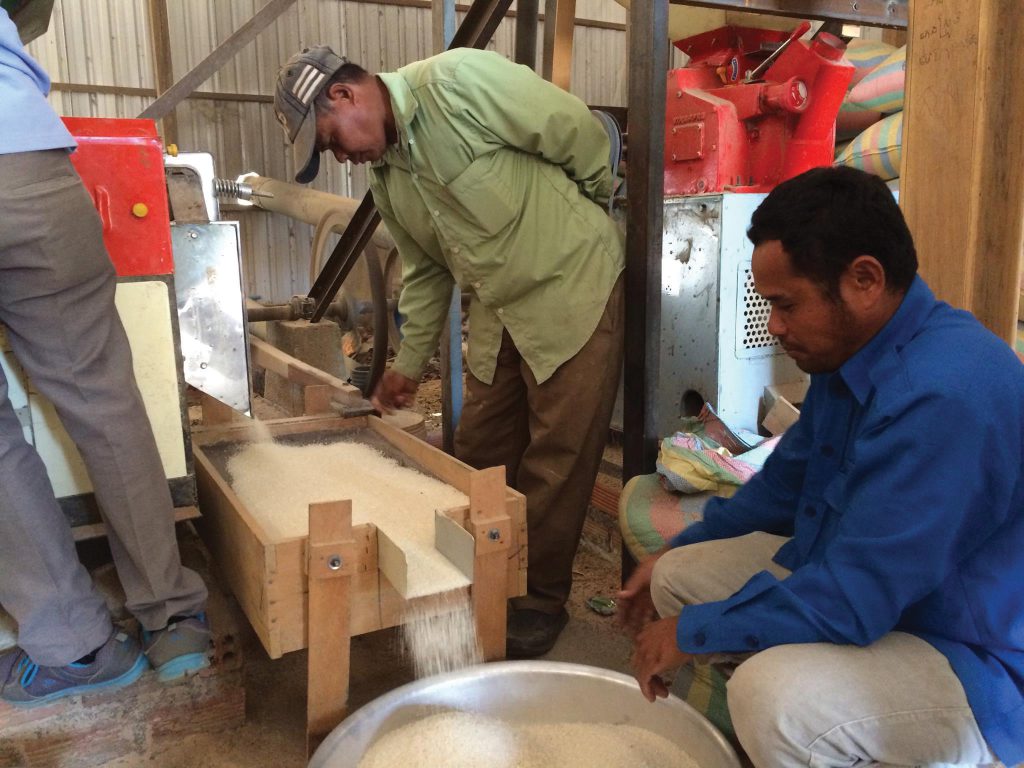 Our prayer is that the harvest reaped will protect more families from exploitation and have an eternal impact on their lives. There are so many different kinds of exploitation, from labour trafficking to forced marriage to sexual slavery. But each robs people of their dignity and their value. We believe that each life is precious and profoundly valuable – so valuable, in fact, that God gave His Son to be tortured, shamed and killed so that they can have citizenship in a heavenly home.
Defenders
By Steve Norman, Country Director for Ratanak International UK 
Stories about human trafficking have been filling social media, television, newspapers and media. Both at home and abroad, it's in the headlines. We can't ignore it, and we shouldn't. Governments the world over are committing time and resources to fight this abhorrent crime. Yet it continues to flourish in today's globalized society – often hidden in plain sight.
Statistics tell us that between 21 and 46 million people are held in slavery today. The total annual income for the perpetrators is estimated to be around $150 billion.
In mid-February I was part of a team of Ratanak staff and volunteers who were in Cambodia. We visited several current programs alongside some new ones. Meeting people who encounter victims daily and hearing their stories is harrowing – but not as hard to face as what followed.
A 2 hour drive from Siem Reap lies Poipet, a ghastly town situated on the border of Cambodia and Thailand. Earlier research provided a variety of descriptions, the politest of which named Poipet as 'the armpit of Cambodia'.
In Poipet we visited a centre to assist migrants operated by a partner NGO. The centre helps Cambodians deported from Thailand return safely home after being deported. Many are in Thailand working illegally. Others are forced or coerced into going. While waiting in the marketplace, we received news that a truck full of people was headed our way. Nothing could prepare us for what was next. A relatively small at-backed truck pulled in – complete with wire cage to prevent its cargo from escaping. Inside over 50 men, women and children, some with babes in arms, stood in this cramped space.
These people were no longer statistics. They were no longer faceless, nameless victims, but real people. Mothers and fathers, sons and daughters with one thing in common – the desire to work to help families escape abject poverty. We watched as several identified themselves to staff as being trafficking victims. Their eyes were empty and vacant – a mixture of shame, hopelessness, fear and plain despair.
This scene is repeated several times a day with no let-up. In January, over 5,000 people came through. Many of them were victims of traffickers who took advantage of a desperate situation. They arrive here into the arms of people who care. Staff members begin the process of unpacking what has happened. They listen, take reports where necessary and arrange safe transport home. There is no judgement, no chastisement, just love in action. Before this centre was here they were simply dropped off, abandoned, left with no money and often stripped of their belongings. Abandoned and unknown to the world, many fell straight back into the hands of the traffickers who had eagerly preyed on them.
This year, along with our partner NGO, we will be opening a second centre at another major border crossing south of this location. Thousands more people will be assured of safe passage home with the support of people who genuinely care.
The Bible repeatedly calls us be defenders of the weak and oppressed – people of faith and also of action. Here, in this forgotten part of Cambodia, this is being worked out daily.
What you need to know about labour trafficking
Half a million people in Cambodia leave the country each year in desperate search of employment.
Over a third of Cambodians who leave the country in search of work are trafficked and sold as slaves.
21 million people are enslaved from all over the world in situations of labour and sex trafficking today.
False recruitment agencies often traffic Cambodians by promising false jobs in other countries.
Poverty & desperation lead many to comply with traffickers with hopes for paid work.
Common industries that victims of trafficking are forced to work in are
Fishing
Farming
Construction
Manufacturing
Domestic Servitude
Massage Parlours
You can help stop trafficking and break the cycle of exploitation
Thank you for faithfully walking alongside Cambodians through your prayers and support. We are privileged to serve Cambodia with you, and are encouraged as we continue to witness transformation and restoration in the lives of so many survivors of exploitation.